TOP HELLAS...TERMS & CONDITIONS
1. TOP HELLAS Service Agreement is intended to protect both the integrity and liability of TOP HELLAS and the Customer. This Service Agreement will be enforced to ensure the speed, power, performance, and reliability of our services.
2. The terms and conditions of this agreement and any rules and prices published on
TOP HELLAS Web Site (http://www.tophellas.com/) constitute the entire and only agreement (collectively, the "Service Agreement") between TOP HELLAS and the Customer (hereby defined as one who has an account with TOP HELLAS for the Service, including Customer's designated users with respect to the Service) and supersede all other communications and agreements with regard to the subject matter hereof.
3. TOP HELLAS reserves the right to modify this Service Agreement or prices, and may discontinue or revise any or all aspects of the Service in its sole discretion without prior notice.
4. Customer agrees to indemnify TOP HELLAS against any liability for any and all use of Customer's account. Furthermore, Customer agrees to indemnify and hold TOP HELLAS harmless from any claims and expenses, including reasonable attorney's fees, related to Customer's violation of the Service Agreement or Customer's direct or indirect damage to another party.
5. Customer is responsible for and must provide all telephone and other equipment and services necessary to maintain customer's account remotely through FTP accounts.
6. Customer agrees that he/she is at least 18 years of age. If the customer is not at least 18 years of age, a parent or guardian's name must be put on the account and will be responsible for payment and Web Site content. If a minor (a person under the age of 18) obtains an account through TOP HELLAS without parental approval, this agreement does not become void.
7. CUSTOMER EXPRESSLY AGREES THAT USE OF TOP HELLAS SERVICE IS AT CUSTOMER'S SOLE RISK. NEITHER TOP HELLAS NOR ANY OF ITS INFORMATION PROVIDERS, LICENSERS, EMPLOYEES, OR AGENTS WARRANT THAT THE SERVICE WILL BE UNINTERRUPTED OR ERROR FREE; NOR TOP HELLAS OR ANY OF ITS INFORMATION PROVIDERS, LICENSERS, EMPLOYEES, OR AGENTS MAKE ANY WARRANTY AS TO THE RESULTS TO BE OBTAINED FROM USE OF THE SERVICE. THE SERVICE IS DISTRIBUTED ON AN "AS IS" BASIS WARRANTIES OF ANY KIND, EITHER EXPRESS OR IMPLIED, INCLUDING BUT NOT LIMITED TO WARRANTIES OF TITLE IMPLIED WARRANTIES OF MERCHANTABILITY OR FITNESS FOR A PARTICULAR PURPOSE OR OTHERWISE, OTHER THAN THOSE WARRANTIES WHICH ARE IMPLIED BY AND INCAPABLE OF EXCLUSION, RESTRICTION, OR MODIFICATION UNDER THE APPLICABLE TO THIS SERVICE AGREEMENT. NEITHER TOP HELLAS NOR ANYONE ELSE INVOLVED IN CREATING, PRODUCING OR DELIVERING THE SERVICE SHALL BE LIABLE FOR ANY DIRECT, INDIRECT, INCIDENTAL, SPECIAL OR CONSEQUENTIAL DAMAGES ARISING OUT OF USE OF THE SERVICE OR INABILITY TO USE THE SERVICE OR OUT OF ANY BREACH OF ANY WARRANTY. CUSTOMER EXPRESSLY ACKNOWLEDGES THAT THE PROVISION OF THIS PARAGRAPH SHALL ALSO APPLY TO ALL THIRD PARTY CONTENT AND ANY OTHER CONTENT AVAILABLE THROUGH THE SERVICE.
8. This Service Agreement is made in Thessaloniki Greece, and shall be governed by and construed in accordance with the laws of Greece. Any cause of action of customer or its designated users with respect to the Service Agreement must be instituted within six (6) months after the claim or cause of action has arisen or be barred. Appropriate Use Policies
9. TOP HELLAS Service may only be used for lawful purposes. Transmission, distribution, or storage of any information, data, or material in violation of Greek and International regulation or law, or by the common law, is prohibited. This includes, but is not limited to, material protected by copyright, trademark, tradesecret, or any other statute. TOP HELLAS reserves the right to remove such illegal material from it's server immediately. TOP HELLAS expressly forbids anyone from using TOP HELLAS servers for the propagation, distribution, housing, processing, storing, or otherwise handling in any way lewd, obscene, or pornographic material, or any other material which TOP HELLAS deems to be objectionable. The designation of any materials as such described is left entirely to the discretion of TOP HELLAS
10. TOP HELLAS does NOT allow sites that provide points of distribution, or 'links' to the following types of sites: 1. Pirated Software (Warez) - Any software that is copyrighted and not freely available for distribution without cost. ROMs, ROM Emulators and Mpeg Layer 3 files (MP3) all fall under this jurisdiction. 2. Hacking / Phreaking - Includes sites with material, links, or resources for Hacking, Phreaking, Viruses, Anarchy, or any type of site that promotes the destruction or compromises the integrity of TOP HELLAS 3. Adult Sites - Any erotic or pornographic material, links to adult sites, or advertisements for adult sites.
11. Copyrighted material must not be placed on Customer's account without the permission of the owner(s) or person(s) they specifically authorize. Only the owner(s) or such authorized person(s) may upload copyrighted material to the account.
12. TOP HELLAS strictly prohibits e-mail harassment, whether through language, frequency, or size of messages. Forging of header information is not permitted. ResellerMatrix does not allow unsolicited e-mail. This includes "Spamming" and "Bulk Mail" sent to persons who have otherwise not requested to receive such mail.
13. Any Customer that uses a amount of server resources (such as, but not limited to, CPU time, memory usage, and network resources) will result in immediate account suspension. The Customer will then be requested to either reduce the resource use to an acceptable level or pay for the additional hardware or the resource needed to compensate. TOP HELLAS shall be the sole arbiter of what is considered to be a high server usage level.
14. Any Customer in violation of system or network security is subject to criminal and civil liability, as well as immediate account termination. Examples include, but arenot limited to the following: Unauthorized access, use, probe, or scan of a systems security or authentication measures, data or traffic. Interference with service to any user, host or network including, without limitation, e-mail bombing, flooding deliberate attempts to overload a system and broadcast attacks. Forging of any TCP/IP packet header or any part of the header information in an e-mail or newsgroup posting.
15. Customer agrees not to publish on or over its account any information, software or other content which violates or infringes upon the rights of any others or which knowingly contravenes the laws of any jurisdiction in which such content is generally accessible.
16. Use of illegal or copyright material on any Web page or other distribution mechanism used in conjunction with the Customer's account, will result in termination of this Agreement. Illegal material is defined as any material not permitted under Greece and international local, state or federal laws. If "illegal material" was submitted by a client of the Customer without Customer's knowledge, this Service Agreement will remain in effect if the Customer removes the "illegal material." Any use of TOP HELLAS's systems that disrupts the normal use of the system for other TOP HELLAS customers is considered to be abuse of TOP HELLAS services and is grounds for termination of this Service Agreement. Some examples of abuse include (not limited to) spawning dozens of processes, consuming large amounts of memory or CPU cycles for long periods of time, attempting to access other Customers' account areas, or conducting provocative activities such as mass e-mailings (spam) which may result in retaliatory actions against TOP HELLAS's systems.
17. Depending upon the nature and severity of any abuses, the Customer may receive an e-mail warning detailing the nature of the abuse. If the abuse of services is not terminated within one (1) day, a final e-mail will be sent to the customer formally requesting termination of the stated abuse. Customer then must terminate stated abuse within one (1) day, otherwise the Service Agreement will be terminated. Any reconnection of a terminated account will require a reconnection fee.
18. If, in TOP HELLAS 's sole discretion, the nature and severity of abuses is severe enough, TOP HELLAS may terminate the Service Agreement immediately without written notification prior to termination. This may also be subject to a reconnection fee, however TOP HELLAS reserves the right to deny all future access upon termination.
19. TOP HELLAS 's Service is intended to be sold to the end-user only.
20. Violation of any of TOP HELLAS 's rules and regulations could result warning, suspension, or possible account termination.
21. TOP HELLAS reserves the right to suspend or cancel a Customer's (hereby defined as one who has an account with TOP HELLAS) access to any or all services provided by TOP HELLAS when TOP HELLAS decides that the account has been inappropriately used.
Payment Policy
22. Customers located outside of the Greece must use a system of payment issued within Greece.
23. TOP HELLAS 's 30-day Money-back Guarantee does not apply for the setup fee unless the account has not been activated.
24. Full payment is due each anniversary period following the date the account was established. The Setup fee and Monthly fee are due on the first anniversary date, and the monthly fee is due on every subsequent anniversary date. The Customer is responsible for all money owed on the account from the date it was established to the date it is terminated.
25. Requests for cancellation (termination of service) must be either submitted through the control panel provided by TOP HELLAS, no other system of cancellation will be accepted. The date of cancellation request will not be used as date of cancellation. A representative of TOP HELLAS must confirm all cancellations prior to a cancellation date being set and followed through.
26. Customer shall pay the monthly fee, and any charge for additional services under the terms of this Service Agreement, within seven (7) days of invoice. Invoices and receipts will be sent to the Customer via e-mail. Customer may not withhold or "setoff" any amounts due hereunder.TOP HELLAS retains the right to withhold service without prejudice until all amounts determined delinquent are paid in full. Any late payment shall be subject to any costs of collection (including but not limited to legal fees).
27. Accounts which are delinquent will be placed on "administrative hold" or suspension and may not be used or accessed. Any account that is delinquent for seven (7) days will have all files purged from all TOP HELLAS servers. Customer's account will continue to accrue charges while on "administrative hold" or suspension.
28. Any Customer whose services are terminated or suspended will be asked to pay a reconnection fee to restart the account. Reconnection fee for suspended accounts is EU 50.00. Reconnection fee for accounts that have been terminated is EU 100.
29. For payment via Credit Card, accounts will be automatically billed on a monthly, quarterly or yearly basis to the card number on file unless notified otherwise. E-mail notification of payment will be sent to the Customer via e-mail on that anniversary payment date. All credit card payments will be billed on the date due, the e-mail notification is solely a courtesy e-mail. In the event that a credit card does not clear with the Customer or cardholder's bank, the Customer will be notified via e-mail. Past due accounts that are not brought current within 7 days of e-mail notice are subject to suspension or possible account termination.
30. Customer's agree that the first name, last name, street address, and zip/postal code provided for their account profile is the same as the cardholder's for the Credit Card being used for payment of the account.
31. ALL PAYMENTS MUST BE IN EU CURRENCY. Legal notices sent to either party shall be effective when delivered by mail, transmitted by telecopier ("fax") machine, one (1) day after being sent by overnight mail or "fax," or two (2) days after being sent by first class mail postage prepaid to the address shown. This information is subject to change without prior notification. TOP HELLAS P.O. BOX 10011 54110 THESSALONIKI GREECE. Cancellation
32. TOP HELLAS reserves the right to cancel service at any time for any reason. All fee paid in advance of cancellation will be pro-rated and paid by TOP HELLAS if TOP HELLAS institutes it's right of cancellation. If cancellation is caused by customers violation of these policies, then no refund will be disbursed. Customer retains the right to cancel use of TOP HELLAS 'S Service at any time through written, e-mailed (must be followed by a faxed or written request) or faxed notification. Requests for cancellation must be received at TOP HELLAS 's main office.
33. All TOP HELLAS accounts must be paid in full before the cancellation transaction will be considered complete. All canellation requests must include the following information to be valid; Primary Contact of the account, account name, reason for cancellation, current account password, and last 4 digits of credit card on file.All accounts are cancelled at the end of the current billing period unless a date of cancellation is specified.
34. Refunds made by TOP HELLAS for all payment systems (including Credit Card) will be fulfilled via check. TOP HELLAS will recognize no other systems of reimbursement and reserves the right to do so. Service Disclaimer.TOP HELLAS acknowledges and agrees that in the course of dealings with Customer, it may acquire information about Customer, its business activities and operations, its technical information and trade secrets, of a highly confidential and proprietary nature. TOP HELLAS agrees that title to all such information and related materials shall remain with the Customer. All applicable copyrights, trade secrets, patents and other intellectual and property rights in such information and related material are and remain in the property of the Customer. All other aspects of the information and related material, including without limitation, technologies, procedures, programs, methods of processing, all source code, conversions, enhancements, databases, templates, specific design and structure of individual programs and their interaction and unique programming techniques employed therein as well as screen formats shall remain the sole and exclusive property of the Customer and shall not in any way be sold, revealed, disclosed or otherwise communicated, directly of indirectly, by TOP HELLAS to any person, company or institution whatsoever other than for the purposes set forth herein. It is expressly understood that no title to or ownership of such information or any part thereof is hereby transferred to TOP HELLAS .
35. Nothing contained herein shall be to place the parties (Customer and TOP HELLAS) in a relationship of partners, agents or joint ventures. Neither party shall represent itself as the agent or legal representative of the other party for any purpose whatsoever and shall have no power to obligate or bind the other party in manner whatsoever.
36. If any clause herein shall be found to contravene any law or ordinance in whole or in part, it shall be severed from theAgreement. The balance of the Agreement shall continue in full force and effect.
37. Customer support issues are to be addressed using our Help Desk at http://www.tophellas.com/onlinesupport.shtml . Customers who publish comments, opinions or other information on Internet sites or elsewhere with or without cause that is, in TOP HELLAS 's opinion, negative or derogatory in nature are subject to immediate cancellation without refund in additionto other remedies available under law and otherwise for defamation and consequential damages.
38. Each party (Customer and TOP HELLAS) this agreement represents that it has all necessary rights and authority to enter into the terms of the Agreement and is in compliance with federal, state and local laws governing this transaction.
39. TOP HELLAS is not responsible for files and data residing on Customer's account.Customer agrees to take full responsibility for files and data transferred and to maintain all appropriate backups of files and data stored on TOP HELLAS servers. TOP HELLAS 's tape back-up system is in place primarily as a disaster recovery system in case of a server crash or some similar catastrophe and should not be relied upon as Customer's sole source of backup protection.
40. TOP HELLAS is not responsible for any damages your business may suffer. TOP HELLAS makes no warranties of any kind, expressed or implied for services we provide. TOP HELLAS disclaims any warranty or merchantability or fitness for a particular purpose. This includes loss of data resulting from delays, non-deliveries, wrong delivery, and any and all service interruptions caused by TOP HELLAS and it's employees. TOP HELLAS reserves the right to revise it's Service Agreement at any time without prior notification.

CONTROL PANEL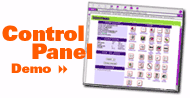 GUARANTEE

POWERED BY